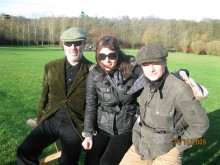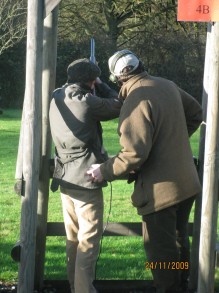 Where: Holland & Holland Shooting Grounds, Middlesex
Joanne Black Style: Belstaff jacket, Stella McCartney polo, Superfine code jeans, Le Chameau wellies and a hat by Irwin & Jordon
There's only one thing you can get away with wearing at a clay pigeon shooting event – and that's tweed. Sadly, not being a lady who loves textured clothing, it was only when I discovered a leaner look in the form of a grey and black Belstaff jacket that I was able to accept the invite. Brown tweed and a black loving girl just don't get on.
Unfortunately, looking the part doesn't make you a perfect shot out in the field. After a quick lesson – not to mention a bacon and sausage roll and a good cup of English tea – I did actually manage to hit something, but let's just say I wasn't surprised when my name wasn't called out at lunch.
When I'd got over the fact I was tucking into yet another turkey dinner, it was time for yet more style spotting. Charles Finch was a great host yet again, but I have to say, my male style points go jointly to Nick Folkes who wore amazing socks with tassels and Tom Stubb with his amazing cape.
I was lucky enough to borrow a hat from the lovely designer Zoe Jordan, who picked up female performer on the day. Maybe with a bit of practice I'll actually be some competition for her next year!